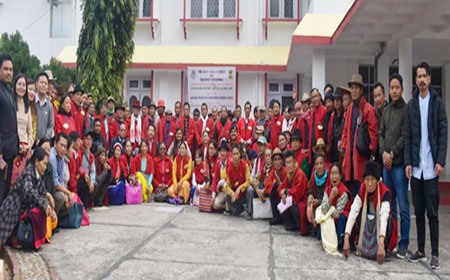 PASIGHAT, Jan 19: Ninety gaon burahs and gaon buris participated in a two-day legal literacy programme on 'Synergy between customary practices and formal laws', here in East Siang district recently.
The training was organized by the Arunachal Pradesh State Legal Services Authority (APSLSA), in collaboration with the district legal services authority.
APSLSA Member Secretary Budi Habung informed that the training was aimed at helping the GBs "understand their status and power in the community."
East Siang SP Rajiv Ranjan Singh spoke on the need for GBs to be able to differentiate between disputes that should be resolved at the village authority (kebang) level and those that should be addressed through formal approaches.
DC Kinny Singh expressed hope that the training would equip the GBs with knowledge on formal laws for them to be able to efficiently execute their roles in resolving disputes.
Topics such as the Assam Frontier (Administration of Justice) Regulation, 1945, the Schedule Tribes & Other Traditional Forest Dwellers (Recognition of Forest Rights) Act, 2006, the RTI Act, the RTE Act, and the tribal customary laws for women and women's rights in Northeast India, with special reference to Arunachal, were also discussed during the programme.
The second day of the training covered topics such as free legal services, lok adalats, alternative dispute resolution, the Arunachal Pradesh Victim Compensation Scheme, 2011, the village council system of the Adis (kebang), 'traditional and present context and way forward', the criminal justice system, and the role of GBs in assisting the police and the district administration.
Pasighat Bar Association president Tony Pertin, Special PP (POCSO) Sanjoy Taye, and Mebo CDPO MT Mayong were the resource persons, along with other experts from academic and law backgrounds.
Speaking on behalf of the GBs, Advisory Committee Arunachal Pradesh Gaon Burah Welfare Association Chairman Tamiyo Mingki expressed hope that the knowledge they gained from the programme would help them in carrying out their duties more efficiently.
The training was organised with support from the union law & justice ministry's justice department, under the Access to Justice Northeast & Jammu and Kashmir project.