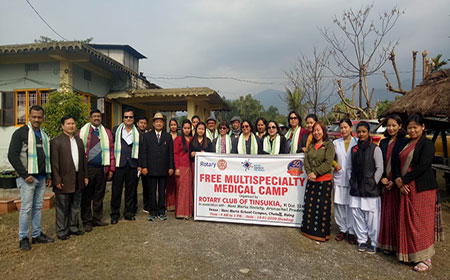 Correspondent
CHETA-II, Jan 19: More than 300 people benefitted from a 'free multi-speciality medical camp' organised by the Rotary Club of Tinsukia (RCT), Assam, in association with local NGO Nani Maria Society (NMS), at Nani Maria School here in Lower Dibang Valley district on Sunday.
Child specialist Dr MS Konwar, gynaecologists Drs Arindam Barthakur and KR Dey, eye specialist Dr S Bhattacharjee, and MD Dr Rahul Bagaria attended to the patients.
NMS chairperson Desai Linggi said the camp was aimed at "providing medical assistance to the needy who cannot afford proper medical care."
She expressed deep appreciation for the RCT.
"We are also very thankful for the encouragement provided by Roing ADC Tapik Pertin, DMO Dr R Tatan and Dr Ista Pulu from the district hospital in conducting the camp successfully," she said.