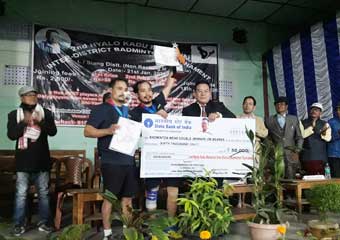 West Siang emerge champion
[Prafulla Kaman]
TELAM, Jan 23: Team of West Siang district comprising Goi Bagra and Gemo Bagra has become champion of the second edition of the Nyalo Kadu Memorial Inter-district Badminton Tournament (Men's double), which concluded at the Bakin Pertin auditorium here in Lower Siang district on Thursday evening.
The champion team beat Lepa Rada by 2-1 sets in the final game.
The team of Mijom Bam and Tomar Ango from Lepa Rada were the first runners-up, while the team from West Siang became the second runners-up.
Speaking at the concluding ceremony, state education department's administrative officer Takar Ragi suggested the players to take up sports and games in a professional way.
Recalling various contributions made by late Nyalo Kadu, Ragi said that the society has lost a prominent social activist in his demise.
RWD Joint BDO Komkar Nyodu suggested the youths to get involved in games and sports "as it is an indispensable part of school education in the state."
He thanked the organizers for conducting the event for keeping the wisdom of late Nyalo Kadu, who was founder of the Telam Higher Secondary School and served the society as chairman of the Assam-Arunachal Boundary Peace Committee.
The tournament, which is sponsored by late Nyalo Kadu's family every year, was organized by the Tehelka Badminton Club of Telam this time.
The champion team of the tournament was given Rs 50,000 (cheque) along with the coveted trophy and the runner up received Rs 20,000 and trophy.