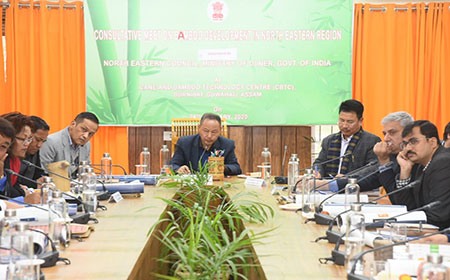 GUWAHATI, Jan 24: A consultative meeting themed 'Bamboo development and way forward in the North East' was held at Cane and Bamboo Technology Centre (CBTC), Burnihat, here in Assam under the chairmanship of North Eastern Council's secretary K Moses Chalai on Friday.
It was attended by the senior officers of NEC, CBTC and the practitioners of bamboo sector from the North East region including experts, artisans, entrepreneurs, bamboo industries, and bamboo machine manufacturers.
The objective of the consultative meeting was to take up SWOT (Strengths, Weaknesses, Opportunities, and Threats) analysis of bamboo in NE region and to take bamboo and cane development in the region to the next level through wide range of activities including plantation, industries, handicrafts, furniture, construction, food, fuel, etc.