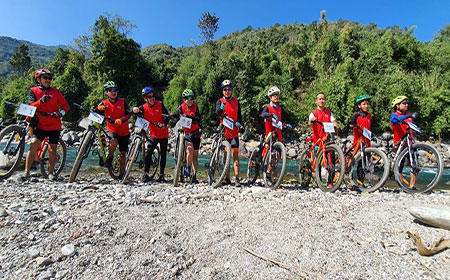 ITANAGAR, Jan 27: During the Republic Day celebration this year, cycling aficionados in various parts of Arunachal took part in the nationwide 'Bicycle Parade-2020', in an attempt to break the Guinness World Record currently being held by Thailand. Similar 'parades' were simultaneously held in other parts of the country.
In West Kameng district, a 15-member team of cyclists from the Bomdila PHE division, led by EE Niapung Konia, covered a distance of 45 kms, from Bomdila to Dirang town. The event was flagged off by DC Sonal Swaroop.
In East Kameng, 10 riders led by DT Group chairman Chandra Sono Yangfo rode a 50-km return trip from the Seppa general ground to Attangarang village. The 'parade' was flagged off by District Sports Officer Khoya Yame.
In Shi-Yomi, eight riders led by PHED EE Marter Riba fulfilled the minimum criterion of 5 kms, while the cyclists in Itanagar covered 8 kms.
The Guinness World Record will soon announce the result of the nationwide rides. Thailand set the record in 2015 with 1, 36,411 cyclists.