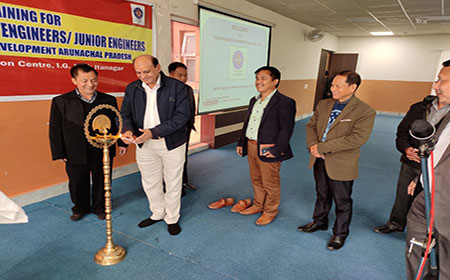 Staff Reporter
Itanagar, Jan 29: The three-day intensive training for the engineers of the Hydro Power Development Department was formally inaugurated at the Dorjee Khandu Convention Centre, here by Commissioner (Power) GS Meena on Wednesday.
The programme is being conducted to create work culture and train the engineers of the department in latest technologies to help officials in survey and site selection; maintenance of the hydels, and remote sensing etc, informed Hydro Power Development Chief Engineer (P&D) PuraTupe, who also participated as one of the resource persons.
Acknowledging that this is for the first time that such a programme is being held for the Hydro Power Development Department, he added that the department shall regularly organize such programmes under the banner of 'refreshers course' from next year onwards.
The intensive training for officials -from junior engineer to the executive engineer level -trained officials on modes of surveying, seismic protection and safety design, and preparation of bills, among other things.