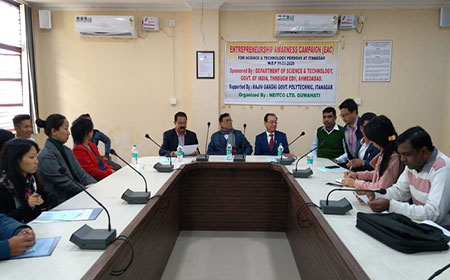 ITANAGAR, Jan 31: An entrepreneurship awareness programme for science and technology students was conducted at Rajiv Gandhi Government Polytechnic (RGGP) here on Friday by Guwahati (Assam)-based North Eastern Industrial & Technical Consultancy Organization (NEITCO).
During the programme, which was held with support from RGGP's career counselling cell and was sponsored by the union science & technology department through the EDII, Ahmedabad, NEITCO management committee chairman KC Sharma threw light on the merits of adopting entrepreneurship as a career option in order to achieve economic and financial independence.
RGGP Principal AK Tripathy in his address said "one can progress to any end that mind and talent permits" through entrepreneurship.
Apex Bank MD T Thongdok highlighted the advantages of entrepreneurship.
"Social entrepreneurship is very good for science and technology students. Any problem in society can be identified and solved by you. This not only becomes a business opportunity for you all but you also contribute to the society and earn their respect," he said.
He urged the students to "become entrepreneurs and don't get frustrated for lack of opportunity."
Entrepreneur Nangbia Amar Dui from NN Charitable Society, Doimukh, shared his experience in entrepreneurship. He advised the gathering to "focus, study, identify, analyze, take their business seriously, and work hard for it to become successful."
NEITCO programme coordinator C Barman conducted a technical session on 'Systematic preparation of scheme and project report'.
The programme was overseen by RGGP Science & Humanities HoD (in-charge) Jitu Saikia.