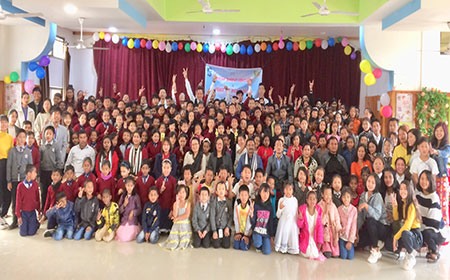 ITANAGAR, Jan 31: A special Swachh Bharat Abhiyan (SBA) event organised by Childline Itanagar and the Don Bosco Youth Centre (DBYC) to create awareness among children and youths on the necessity of cleanliness and protection of the environment concluded here on Friday.
The event also marked the grand finale of a series of events, such as drama, essay writing and drawing competitions, which were organised by Childline Itanagar.
In his inaugural address, DBYC director, Fr Cyriac, lauded Childline India Foundation for coming up with the special initiative "to strengthen the Swachh Bharat clarion call given by Prime Minister Modi and reaching out through Childline collaborative organisations to children and youth."
He also spoke about the importance of cleanliness and personal hygiene.
Capital SP Tumme Amo, who also attended the event, spoke about making Earth plastic-free and keeping the rivers, forests and nature clean.
He also exhorted all present to keep away from drugs, obey traffic rules, and look after their health.
APWWS secretary Kani Nada Maling spoke about "the need to go green" and to collaborate with the Clean India Mission, launched on the 150th birth anniversary of Mahatma Gandhi.
CWC chairperson Likha Asha spoke about observing road safety rules for children and cultivating the habit of properly disposing of garbage.