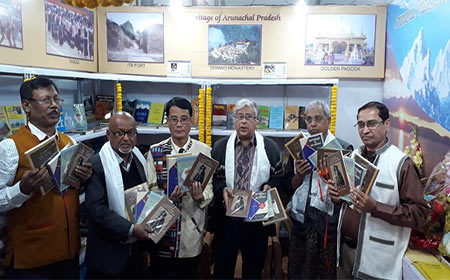 KOLKATA, Feb 2: Arunachal's research department is participating in the 44th International Kolkata Book Fair (IKBF), which got underway here in West Bengal on 29 January and will end on 9 February.
The department has selected 'Cultural heritage of Arunachal Pradesh' as its theme for this year, reflecting the cultural might of the ethnic communities of the state.
The research directorate has been participating in the book fair since 2012.
Arunachal's Deputy Resident Commissioner here, Subhasish Nath, inaugurated the state's exhibition stall. Eminent novelist and noted Bengali litterateur, Swapnamoy Chakraborty, on Sunday released four books at the Arunachal stall: Dictionary of Adi Language by Kabuk Pertin, Nyibu: Ritual Specialist of the Apatanis by Dr Radhe Yampi, Lullabies of Arunachal Pradesh: A Window to Human Mind by RN Koley and Dr Radhe Yampi, and Women Empowerment Among the Tagins by Mari Gibi.
He also launched the reprinted version of State Museum: A Treasure House of Arunachal Pradesh Cultural Heritage by Dr SK Ghosh.
Chakraborty lauded the service rendered by Arunachal's research department "to reflect Arunachal Pradesh to the outside world through publications of unique heterogeneous culture of the people of Arunachal Pradesh."
He described Arunachal as a "state of treasure, especially oral literature, which should be documented in oral literature archive for future generation."
Earlier, Research Director Batem Pertin presented a brief on the four books which were released. Noted journalist and writer, Arup Basu, also spoke.