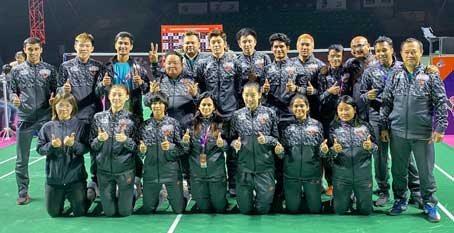 HYDERABAD, Feb 6: North Eastern Warriors (NEW) has made it to the semifinals of the Premier Badminton League (PBL) – one of the top badminton leagues in the world – currently underway here in Telangana.
NEW is the only team from the Northeast to represent the region in the coveted league, which has a total of seven teams from across the nation competing for the top spot.
NEW is also presently on top of the points table with 22 points, while Chennai Superstarz, with similar points, are second, with the former having won more matches than the latter.
With team captain and former World No 1 from Korea, Lee Yong Dae, leading the team, NEW also has top shuttlers like Kim Ha-na (former mixed doubles World No 1), Lee Cheuk Yiu (World No 18, from Hong Kong), Tanongsak Seansomboonsuk (World No 39, from Thailand), Michelle Li (World No 8, from Canada) and Indian shuttlers like Krishna Garag, Rutaparna Panda and Kaushal Dharmamer. Assam's Ashmita Chaliha, who is at present World No 81, is also in the team.
Laa Talar and Meiraba Luwang from Arunachal and Manipur, respectively, had also represented NEW in the 2018 edition of the PBL.
NEW will play in the semifinals on Friday, after its opponent is decided through a draw between the top four teams.
Meanwhile, NEW sponsor Aruna Khel Sports and Event, the team's chief executive officer Bamang Tago, manager Penya Bagra, and observer Karmo Riram have thanked the people of the region and the country for supporting the team.