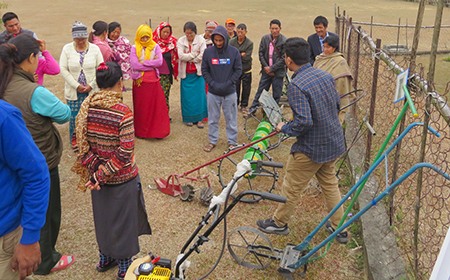 CHULLYU, Feb 7: Twenty-five farmers participated in a 'training-cum-demonstration programme on women-friendly tools and equipment', organised here in Lower Subansiri district by the NERIST's agriculture engineering department on Friday.
The department's Junior Project Officer, Surya Chhetry, delivered lectures, aided by audio-visual presentation, on 'ergonomic improved hand tools and equipment that are feasible in the region'.
Farm machineries, such as 'package of paddy cultivation' (hand crank transplanter, drum seeder,
weeder, improved sickle and pedal thresher) and safety gadgets for dao, maize sheller, etc, were displayed and explained to the farmers by Chhetry and technical associate Kengam Sora.