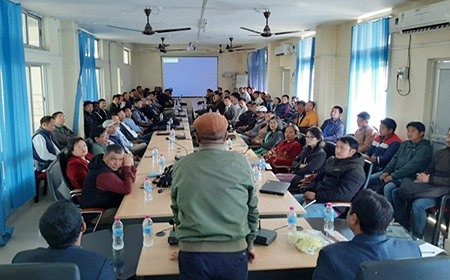 NIRJULI, Feb 7: District animal husbandry & veterinary (AHV) officers, along with veterinary officers and paravets are participating in a two-day skill development training on 'Information network on animal productivity and health' which got underway at the AHV&DD directorate here on Friday.
The programme is aimed at acquainting the field-level officials on real-time uploading of information on livestock health and breeding.
The training is being imparted by Drs S Kurrey and P Dutta from the National Dairy Development Board.
The Centre recently launched the national animal disease control programme and the national artificial insemination programme to cover every susceptible livestock of the country through vaccination against FMD and Brucellosis.
The objective of the drills is to provide capacity-building training and generate skilled manpower in the department to use the portal for generation of a nationwide database. The exercise will abolish dubious and fraudulent data creation and will ensure creation of real-time and correct field performance on animal health, productivity and breeding.
Addressing the participants, AHV&DD Director Dr ND Minto urged the state's livestock farming community to "cooperate whenever the field-level workers from the department visit them to carry out vaccination and AI activity, and allow them to ear-tag animals for generating an authentic database."
The exercise will not harm the animals but help in generating information on the health and breeding status of individual animals, which will be saved in the national server for proper monitoring.