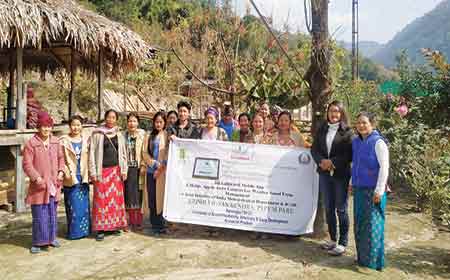 BALAPU, Feb 8: The Papum Pare Krishi Vigyan Kendra organised a programme here on Friday to create awareness among farmers about the influence of the weather on field crops, vegetables, fruits, pests and diseases.
The programme was organised as part of the Gramin Krishi Mausam Seva, under which the KVK issues crop- and location-specific weather-based agro advisory, and information on occurrence of extreme weather, every Tuesday and Friday.
Farmers may register through the website of the agriment division, www.imdagrimet.gov.in, to utilize these services.
During the programme, agrometeorology scientist Mamoni Panging highlighted the importance of weather forecasting, agromet advisory services, and the mobile application Meghdoot, "which provides location-, crop-, fisheries- and livestock-specific weather-based agro advisories to farmers."
The Meghdoot app provides forecast relating to temperature, rainfall, humidity, wind speed and direction, which plays a crucial role in agricultural operations. It also provides information on how to take care of crops and livestock.
The app, which is available on Google Playstore and other app stores, has been developed by the India meteorological department, in collaboration with the Indian Institute of Tropical Meteorology and the Indian Council of Agricultural Research. It has been integrated with WhatsApp and Facebook to help farmers share information among themselves.