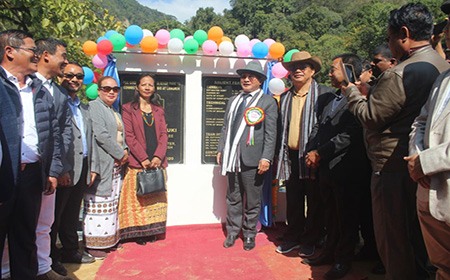 LEPORIANG, Feb 13: Sagalee MLA Nabam Tuki inaugurated an RCC bridge in Leporiang circle of Papum Pare district on Thursday amid a gathering of heads of departments, panchayat leaders, and others.
Tuki commended the executing agencies and the nodal department for completing the project within the stipulated time.
Responding to a memorandum submitted by the villagers, he assured to extend all possible help to address the requirement of a protection wall on both sides of the bridge, a community hall in Ressing, a link road from Leporiang-Sango to Langruk, and an MIP channel.
PWD EE Nabam Takar informed that the bridge over the Pare river will connect Ressing, Tabio and Papesango villages.
The bridge has a 40 metre span, with a carriageway of 7.50 m. The work on the bridge commenced on 6 May, 2017, with an estimated cost of Rs 700 lakhs from the Central Road Fund.