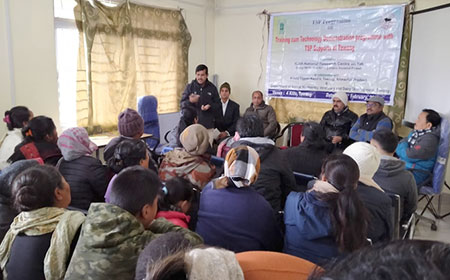 TAWANG, Feb 18: Sixty-nine livestock farmers from 4 Kilo, Seecu, Cheybe, Gyagongpa, Chayprong, Limelo, Kitpi, Myomadung, Shyobasti, Khirmu and other areas participated in a 'Training-cum-technology demonstration programme with TSP support', organized here jointly by Dirang-based National Research Centre on Yak, the animal husbandry, veterinary & dairy development department and the Tawang KVK from 17-18 February.
While KVK animal science expert, Dr JK Singh, apprised the participants of the programme's objectives, senior scientist, Dr D Medhi, briefed them on scientific feeding, breeding and reproductive and health management of highland animals.
He also spoke on "hygienic maintenance aspects for clean milk production and value addition to products."
DVO Dr A Tamin and Haryana-based ICAR NBGR's senior scientists, Drs AK Mishra and SK Niranjan, also spoke.