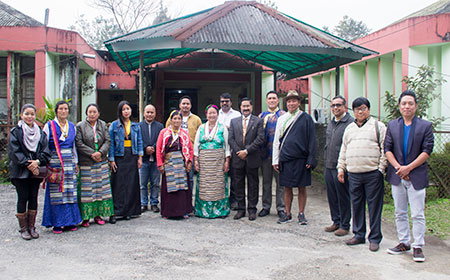 RONO HILLS, Feb 19: As a part of the ongoing research, the Centre for Endangered Languages (CFEL) is organizing a weeklong workshop on 'Meyor Language Documentation' from Wednesday onwards, here at the Arunachal Institute of Tribal Studies (AITS), Rajiv Gandhi University (RGU).
As per the UNESCO report 2009, Meyor is one of the critically endangered languages of Arunachal Pradesh. A team of Meyor speakers from Walong and Kibithoo circle of Anjaw district are taking part in the workshop.
The purpose of this workshop is to bring the native speakers to the university and provide a common platform to interact with students and scholars, and to carry out the language documentation.
During the introductory session, RGU Vice Chancellor Prof Saket Kushwaha interacted with the participants in the vice chancellor's secretariat and expressed his gratitude to the community members for their efforts and interest to reach out to the university.
Pro Vice Chancellor Prof Amitava Mitra, Registrar Prof Tomo Riba, CFEL Coordinator Prof S Simon John and other staffs were also present in the introductory session.
The workshop is in continuation to two previous fieldworks carried out on the Meyor language by the CFEL research team during the month of August, 2017 and February, 2018.
The CFEL is a University Grant Commission (UGC) sponsored research cell working since 2016. It is a multidisciplinary centre that constitutes a team that comprises scholars from anthropology, folklore, linguistic, tribal studies and mass communication. The objective of the research centre focuses on field survey, documentation, and analysis of critically endangered languages of Arunachal Pradesh.