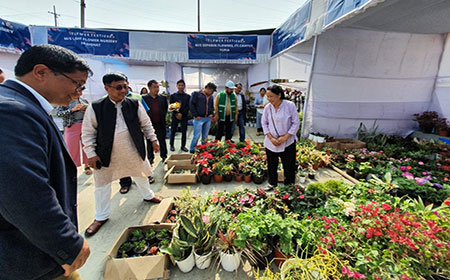 ITANAGAR, Feb 21: A three-day 'Flower Festival' got underway at the DK convention centre here on Friday.
Being organized by the horticulture department in collaboration with the Arunachal Flower Growers, the festival is aimed at showcasing and promoting the state's floriculture potential.
Twenty-five flower growers from various parts of the state are participating in the festival, displaying a riot of diverse flowers.
Horticulture Minister Tage Taki inaugurated the programme and interacted with the flower growers. He lauded their taking up floriculture as an additional source of income.
The minister was informed that many of the growers – mostly housewives – started growing flowers as a hobby but have now taken it up as an income-generating activity.
Horticulture Secretary Bidol Tayeng along with the horticulture director and other senior officers of the department were also present at the inaugural function.