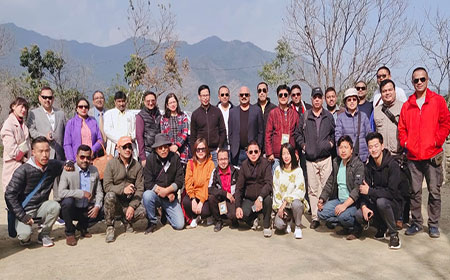 KOHIMA, Feb 27: Tour operators from all eight northeastern states participated in the first 'North East India Tour Operators Meet', hosted here in Nagaland from 24-25 February by Nagaland Tourism, with support from the North Eastern Council (NEC).
Arunachal was represented by a five-member team of the Arunachal Pradesh Tour Operators Association (APTOA), led by its secretary Bengia Mrinal.
Addressing the inaugural function, Nagaland Tourism, Art & Culture Advisor, H Khehovi Yepthomi, informed that tourism generated 9.2 percent of India's GDP in 2018, supporting 42.7 million jobs, "and is predicted to grow at an annual rate of 6.9 percent, thereby contributing upto 9.9 percent of India's GDP."
Describing tour operators as the "image-builders of the country," Yepthomi said the programme's purpose was to create "better coordination and understanding, building relationship, promotion of Northeast states to the outside world, and doing business through B2B."
Additional Tourism Secretary, Martha R Ritse, said the rich cultural and natural heritage of the Northeast has "aptly become our unique selling point," while Nagaland Tourism Director Akhale Vizol said the meet was organized to "create a stronger, healthier relation in business environment and for the growth of tourism in the Northeast states in the right manner."
Tour operators from all eight states presented their views, as well, with Mrinal saying that "the tour operator fraternity should share respective product among its members from different states and work as one team to promote the region."
He said the tourism industry in the Northeast "should focus on niche products and "should emphasize on quality tourism, not quantity tourism."
Mrinal also spoke about Arunachal's huge tourism potential with its rich cultures, traditions, flora and fauna.
"Cultural tourism, wildlife tourism and adventure tourism will play a major role to develop and bring in revenue for the state and the region," he said, and advocated establishing a common platform of all eight states of the region to "market together as one brand in both national and international travel fairs and festivals."
The umbrella organization of tourism stakeholders in the Northeast, the North East India Tourism Confederation, will be revived, he said, and sought "equal participation of stakeholders to work in the interest to develop and market tourism of Northeast India."
The delegates also went on a familiarization tour of Kohima, visited Kisama heritage village and the World War II cemetery, and attended Sekrenyi festival of the Angami tribe, where they met with Nagaland Chief Minister Neiphiu Rio.