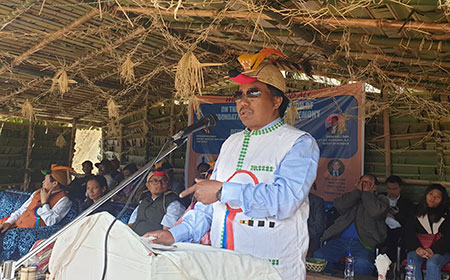 SAGALEE, Mar 7: PWD Minister Honchun Ngandam urged the people to join hands with the government in undertaking development activities.
"The government has always stood for the welfare of the people of the state and has been working tirelessly to this end," Ngandam said, addressing the gathering after laying the foundation of an RCC bridge over the Nimte river at Sangri village here in Papum Pare district on Saturday.
Stating that roads and telecommunication play a vital role in the development of any area, Ngandam said "it is the responsibility of the people to support the government in implementing the projects."
He urged the people to not bring petty issues that can be solved locally and amicably to the court "as doing so causes delay in the development process."
Doimukh MLA Tana Hali Tara also sought the people's support to fast-track implementation of schemes.
He also spoke on the importance of maintaining personal hygiene and conserving the biodiversity.
BJP leader Dominic Tadar and Sagalee ADC S Lowang also spoke.