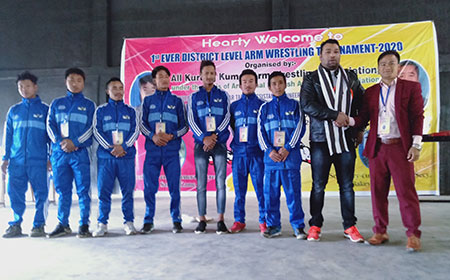 SANGRAM, Mar 8: The first Kurung Kumey Arm Wrestling Tournament was organized by the All Kurung Kumey Arm Wrestling Association here from 6 to 8 March.
The tournament was held for both men and women.
The results:
Women (-55 kg) – Gold: Yangbiu Mamu, Sil: Tago Yaya, Br: Giogi Marry; (-60 kg) – Gold: Kipa Yabang, Sil: Kipa Yagu, Br: Tamchi Oma.
Men (-55 kg) – Gold: Tamchi Tasuk, Sil: Yeri Tami, Br: Taram Tachung; (-60 kg) – Tamchi Tadap, Sil: Bamang Hero, Br: Tai Kaha; (-65 kg) – Gold: Bamang Dion, Sil: Tamchi Gungme, Br: Tamchi Kama; (-70 kg) – Giogi Kaya, Sil: Tamchi Kaha, Br: Tai Tadu.
Disabled category (-55 kg) – Gold: Tamchi Taniang.