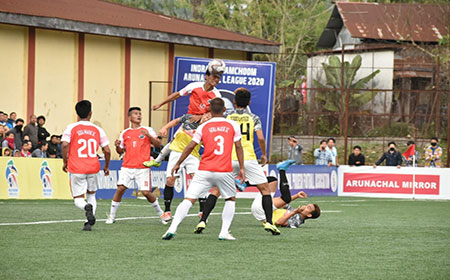 CHIMPU, Mar 11: Defending champion Gora Makik SC (GMSC) defeated Todo United FC 3-1 in the second semifinal (qualifier 2) of the Indrajit Namchool Aruanchal League (INAL) here on Wednesday, and set up a final showdown with Capital Complex FC.
GMSC's Samson Nongrum put his team ahead, scoring in the 18th minute.
Defender Sameer Pradhan scored an own goal in the 30th minute to pile more misery on TUFC.
GMSC's Timmy Ryngkhulem scored from a free kick in the 71st minute to make it 3-0.
It was too late for TUFC to make a comeback, when Taba Heli scored in the 84th minute.
The final will be played on 14 March.