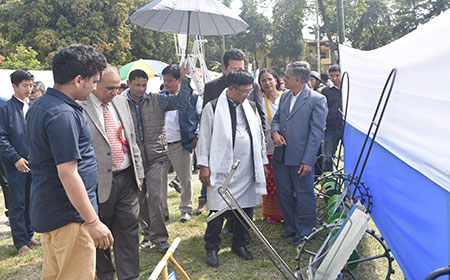 NIRJULI, Mar 13: Over 100 farmers from Chullyu, Yachuli and Laptap villages and from adjoining villages in Assam took part in a 'Krishi Mela' organized by the NERIST's agricultural engineering department here on Friday under the All India Coordinated Research Project on Ergonomics and Safety in Agriculture (AICRP on ESA).
Agriculture Minister Tage Taki, who inaugurated the fair, said "the youths from IT sectors are moving back to agriculture because all other sectors can be saturated in the near future. However, farming can never be saturated."
He said doubling the farmers' income by 2024 could be achieved "if the farmers take up fisheries and piggery along with agriculture and horticulture."
Taki advised local entrepreneurs to take up the task of providing feed for fishery and piggery units "as it would minimize the cost of feed, which is otherwise being procured from outside the state."
NERIST Director, Prof HS Yadav, informed that the institute is "in the process to develop a technology facility centre where farmers from Arunachal and nearby villages of Assam can avail the benefits of the research done in the department of agricultural engineering."
The NERIST's Agriculture Department Joint Director, Tadu Game, presented a brief on the latest technology available for improving the farmers' income, and urged the farmers to stop jhum cultivation and practice settled cultivation.
The event included 'training-cum-demonstration' on sericulture practice, mushroom cultivation, beekeeping and jam and jelly preparation.
The fair was also aimed at helping develop linkages among farmers, educational and research institutions, government agencies and manufacturers/dealers of agricultural tools and machinery.
Nineteen stalls were put up at the fair, where the NERIST's agricultural engineering department and the AICRP on ESA demonstrated improved hand tools and machinery for paddy cultivation; ladders for harvesting fruits; remote-controlled power tillers; safety gadgets for machetes and sickles; improved backpack for load-carrying; pea planters, maize shellers, and such.