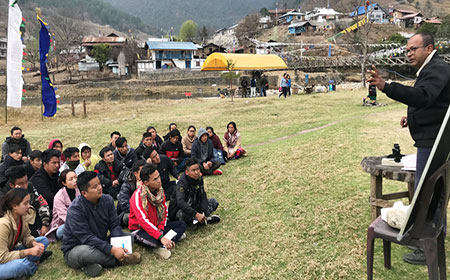 SANGTI, Mar 13: The tourism department organized a 'special interest guides and naturalists training for western Arunachal' at Sangti village in West Kameng district from 11 to 13 March.
Sangti is known for being a habitat of the famous black-necked crane.
Forty-five trainees from Bhalukpong, Dirang, Sangti, Thembang, Chug, Tawang, Zimithang, Nyukmadung, Thrizino, M Camp, Seppa, Jigaon and Naharlagun attended the training which had noted conservationist and writer from Assam, Soumyadeep Datta, and well-known naturalist from Bangalore, Kolappa Venkatesh, among others, as resource persons.
The programme featured technical and field-based training in subjects such as biodiversity leadership, interpretation of nature and culture, role of naturalists, handling guests, adventure sports, birdwatching, rock climbing, photography, etc.
The training was inaugurated by West Kameng District Tourism Officer Tracy W Thongdok, while Deputy Tourism Director Bengia Manna Sonam distributed certificates to the participants during the concluding session.
Earlier, 43 people from five districts of eastern Arunachal had participated in a similar workshop at Miao in Changlang district from 5-7 March.