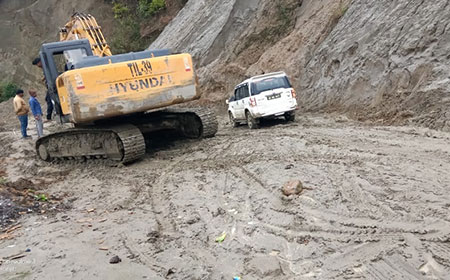 ITANAGAR, Mar 13: The All Kra Daadi District Students' Union (AKDDSU) has expressed displeasure over the slow progress of work on Packages 3 and 4 of the Trans-Arunachal Highway (TAH), from Yapap to Choba, in Kra Daadi district.
In a press release, the union on Friday said that its members, led by its president Pakyum Talop, visited the stretch of the highway on Wednesday and Thursday and found that the work is progressing at a snail's pace.
The AKDDSU said that the work, which began in February 2018, is scheduled to be completed within 36 months, "but even after 24 months have passed, it is still lagging behind."
It said the staff of the executing agency informed the union that shortage of manpower and materials were the reasons behind the delay.
The union urged the authority concerned to expedite the work and ensure its completion on a war footing.