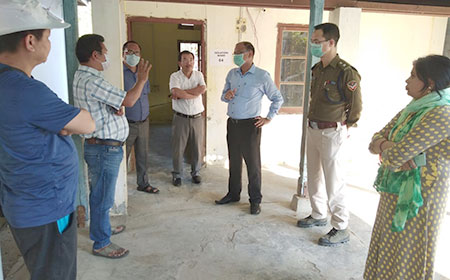 [ Pisi Zauing ]
MIAO, Mar 27: Miao ADC Tage Rumi has informed that a total of 95 persons are currently under quarantine at various facilities in Changlang district.
While five persons, including two young girls, have been put under quarantine in the isolation ward of the old CHC in Miao, 15 Tibetan students along with three escorts with a travel history to metropolitan cities have been screened and put under quarantine at the TR Camp.
Further, 26 persons have been advised to remain under home quarantine at the TR Camp, besides 38 persons in Dharmapur I, II and III villages, and eight persons in Deban area.
"There has so far been no report of fever or other symptoms, but since all of them have a travel history, they have been advised to remain under home quarantine for 14 days as precautionary measure," the ADC said.
A team comprising EAC Apollo James Lungphi, SDPO Tasi Darang, CHC in-charge, Dr HS Jongsam, and Inspector Ege Ete, along with health staff and police personnel visited Dharmapur II on Friday to assess the status of the lockdown in the settlement blocks and to ascertain whether individuals having travel history have gone through the process of screening.
"Dharmapur I, II and III are under complete lockdown and the process of home quarantine is underway smoothly," the SDPO informed, adding that the villagers are much concerned about the pandemic.
Meanwhile, local youth leader Latgam Singpho donated five cases of mineral water to the CHC's isolation ward on Friday.
The administration, the police, doctors, nurses, field staff and others are risking their lives 24×7 and doing everything possible to ensure that the virus doesn't succeed in spreading its tentacles in the district.