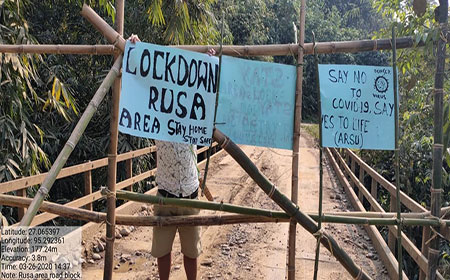 Staff Reporter
ITANAGAR, Mar 27: The villagers of Tirap and Longding districts have erected barricades shutting all border roads that provide links to Myanmar.
This preventive measure has been adopted by the villagers to stop cross-border movement by people at
the height of the Covid-19 pandemic.
Entry points to several villages of the two districts have also been sealed by the villagers themselves. The villages include Thungjang, Upper Chinhan, Noglo and Moktowa in Tirap district, and Khasa, Kamhua Noknu and Konsa in Longding district, an official, who wished not to be named, said.
In Tirap district alone, 26 villages have constructed temporary 'no-entry gates', while in Longding there is a total of 15 such gates. The gates are being manned by youths and the village authorities to ensure that no outsiders/strangers enter their village jurisdictions.
The villagers of both the districts are extending full cooperation to the administration in enforcing the lockdown, and sensitizing the people to the threat of the new virus.
Besides, members of the All Tirap District Students' Union, led by its president Hangba Tonrang, are mobilizing the villagers in the remote and border areas to create awareness on the importance of maintaining physical distancing, home quarantine for 14 days, and the people's obligations during the 21-day nationwide lockdown.
Our correspondent adds: Entire Changlang district has been under complete lockdown ever since Prime Minister Narendra Modi announced the 'janta curfew', which was followed by the countrywide lockdown.
To ensure success of the lockdown, police are on the streets and adopting various tactics to convince the people as to why they should stay indoors to control the spread of Covid-19.