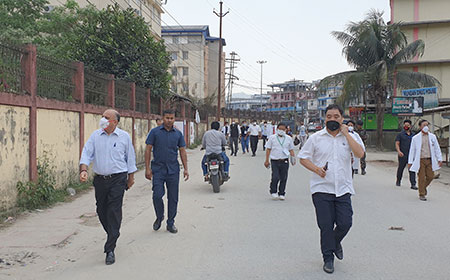 NAHARLAGUN, Mar 30: Health Minister Alo Libang informed that personal protective equipment (PPE) will arrive in the state shortly.
"Ventilators, masks and hand gloves have arrived. The state government has requisitioned a helicopter to deliver equipment and medicines to the districts," the minister, who along with Chief Secretary Naresh Kumar visited TRIHMS here on Monday, said.
Libang said the state has now entered the second stage of Covid-19. As per the WHO, in this stage, the disease is sporadic and is either imported or locally detected, and local transmission of the disease occurs. This means that people who have a travel history to affected countries transmitted the disease to the people they came in contact with.
The health minister said the majority of the government offices are closed and only 25 percent of the employees are attending the offices that are absolutely required to function.
The minister and the CS also visited the state task force control room for Covid-19 at the health services directorate here.