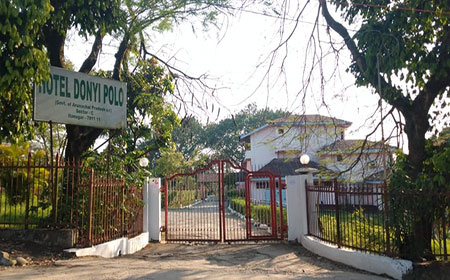 NAHARLAGUN, Mar 30: The capital complex district medical officer has designated four locations apart from Tomo Riba Institute of Health & Medical Sciences (TRIHMS) as quarantine facilities in the capital region.
In Naharlagun, Hotel Nemko has been requisitioned to be used as a dedicated quarantine facility for the public, and Hotel Ana has been identified for use as a duty station-cum-dedicated quarantine facility for medical and other government staff on duty.
The other two locations – the Bharat Scouts & Guides headquarters in Polo Colony, Naharlagun, and Hotel Donyi Polo Ashok, Itanagar – will be additional quarantine facilities which will be used as per necessity.
The decision to set up more quarantine facilities was taken during a coordination meeting on the Covid-19 containment plan, held at the mini-secretariat training hall here on 29 March.
The medical teams will have one medical officer, one nursing staffer, and two general staffers each.
However, staffers who are above 50 years of age, along with pregnant women, lactating mothers whose babies are less than or upto one year of age, disabled persons, and persons with serious debilitating conditions are exempted from duty at the quarantine facilities.
The DMO also issued the eligibility criteria for admission to the quarantine facilities. These include the newly screened persons who have been advised quarantine by the medical officers posted at the check gates; people who have been advised home quarantine but do not have any accommodation in the capital complex or in Papum Pare; and people who have been advised home quarantine but are facing discrimination, abuse and intimidation.
The DMO also sought two dedicated ambulances for shifting people from the quarantine facilities to the flu OPD of TRIHMS or the isolation ward, and for shifting home-quarantined persons to the designated quarantine facilities.
Two dedicated vehicles are also required for ferrying medical staff during duty hours at the quarantine facilities.
Dr Gomi Basar, who is the nodal officer for NCD, TRIHMS, has been appointed as the coordination officer for quarantine facility management.