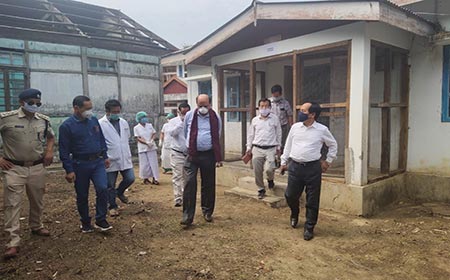 [ Pisi Zauing ]
MIAO, Apr 6: The nodal officer for Covid-19 in TCL districts, GS Meena, on Monday visited Miao subdivision of Changlang district and took stock of the steps and measures taken by the administration to prevent the spread of Covid-19 in the subdivision.
Meena, who was accompanied by local MLA and UD Minister Kamlung Mossang and administrative, police and medical officers, visited the quarantine centre at the Miao CHC, the temporary relief camp at the town middle school, the TR camp, the Kharsang PHC, and the newly identified quarantine camp at ITI Balinong.
"The situation of Miao subdivision is normal and all the line departments are putting their best efforts to maintain overall stability in every sector," Meena later said.
He also held detailed discussions with the officers on various issues.
Around 178 individuals, including 49 from the TR camp, have completed the required period of stay in the isolation wards and in home quarantine.
Police patrolling and disinfection drives are also being carried out simultaneously.