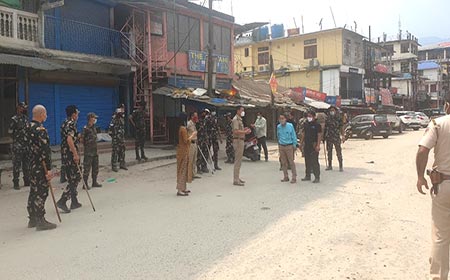 ITANAGAR, Apr 6: Additional District Magistrate (ADM) Talo Potom on Monday visited Naharlagun, Nirjuli and Banderdewa to review the status of the implementation of the lockdown.
Speaking to the media, Potom, who was accompanied by Naharlagun SDPO Rike Kamsi and CO Laxmi Dodum, informed that the lockdown is being strictly implemented throughout the capital.
"There are more numbers of check posts and police personnel on duty now. The situation has improved. The capital police have done a very good job. The people are also starting to follow the order, which is a good sign," he said.
The ADM informed that the police have seized several vehicles and lodged cases at various police stations against those who were loitering needlessly.
Urging the people to continue supporting the lockdown measures, Potom acknowledged that there might be some issues concerning the citizens, and appealed to them to bear with the inconvenience in the interest of everyone.
"We need to fight this battle together," he said.
The ADM meanwhile warned that strict action would be taken against those hoarding ration items and LPG cylinders.