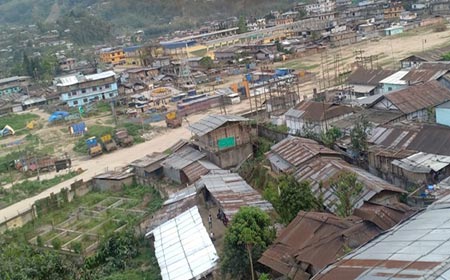 [ Karda Natam ]
DAPORIJO, Apr 6: People stayed indoors and all activities in Upper Subansiri district came to a halt as the traditional 'anti-pandemic lockdown', Potor, began on Monday.
With people remaining indoors, absolute silence prevailed in the district, particularly the district headquarters here. Not a single person was seen on the otherwise busy roads and marketplaces since morning.
While vehicles were off the road and shops, including pharmacies, were closed, all emergency activities also came to a grinding halt.
The traditional lockdown has received overwhelming response from all sections of the society, including the villagers in remote areas. It will continue till 10 April.
The Tagin Cultural Society, in collaboration with the district units of the Nyishi Elite Society and the Galo Welfare Society performed the 'anti-epidemic' ritual, Potor Panam, on the outskirts of Daporijo township on Sunday.
It is basically a self-quarantine practice which has been resorted to by the community since time immemorial. During such practice, people restrict themselves from going out of their homes for a few days.