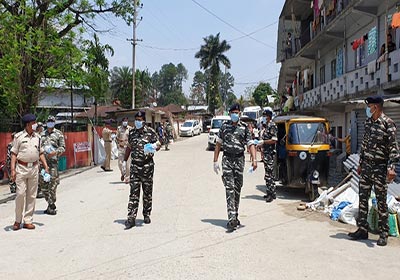 ITANAGAR, Apr 17: The 138 Bn CRPF here is carrying out a door-to-door campaign to educate the people about the social distancing norms to fight Covid-19.
Battalion Commandant Parash Nath said on Friday that besides educating the people, the CRPF personnel are distributing sanitizers, masks and liquid hand-wash products to the citizens.
"We have covered various colonies and sectors in Itanagar. Apart from the awareness campaign, the CRPF is sanitizing the areas," Nath said.
He informed that the CRPF is carrying out similar campaigns in Daporijo, Koloriang, Ziro, Palin, Seppa, Banderdewa, Bhalukpong and Dirang, where the CRPF has its offices.
"The battle against Covid-19 is entering a crucial stage in India. Therefore the CRPF is trying its best to help the government in the battle. The people in the state have been cooperating with our campaigns, and we feel honoured and happy to serve them," the commandant said.