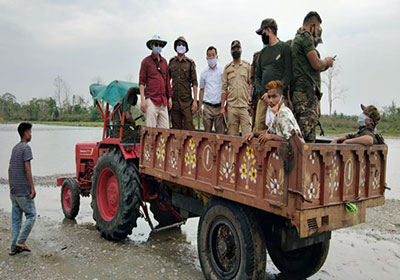 [ Pisi Zauing ]
DHARMAPUR, Apr 18: The 'corona control team' of Miao subdivision on Saturday visited Dharmapur, the Chakma-inhabited village in Namphai circle of Changlang district.
The visit to Dharmapur was made in response to an invitation from the headmen of the blocks.
The team, comprising EAC Apollo James Lungphi, DSP Tasi Darang, SDPO HS Jogsam, Sub-Inspector J Aran, and police personnel, held marathon discussions with the headmen on issues ranging from community policing to quarantine protocols and the government's directives pertaining to controlling Covid-19.
The headmen also raised the issue of their youths who are stranded in various cities across the country and are fighting each day with hunger, fear and apprehensions.
Not only the stranded people but the villagers also are in great need of financial support from the government in this moment of crisis, the headmen said.
They expressed hope that the problems being faced by the poor villagers of Dharmapur area would be noticed.
"We are sincerely maintaining social distancing and are observing complete lockdown, as directed by the government. We appeal to the government to heed to our prayers by extending every possible help and assistance needed for our survival at this critical juncture," the headmen said.