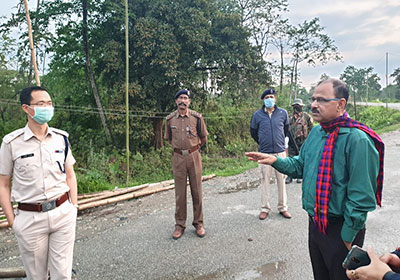 ITANAGAR, Apr 21: A team of officers led by Changlang DC RK Sharma inspected the check gates in Namchik and Namdang, besides the Lekhapani-Jagun area of Assam, on Tuesday.
At the Namdang check gate, the DC, along with the SP and the DMO, interacted with the screening team posted there and ensured that four counters – A, B, C and D – have been set up at the gate as per protocol.
At the Namchik check gate, a VSAT has been installed and made functional.
Speaking to the medical and police teams, the DC informed that the Changlang team will also be implementing "a new protocol of quarantine as per directives of the Centre and the state government."
The police and medical teams are ensuring strict checking in Assam's Jagun, Lekhapani and Margherita-Changlang Tinali.
Later, the DC-led team discussed with officials of Kharsang and Vijoynagar issues related to Covid-19, with special focus on strict compliance with the protocol of setting up separate counters.
Meanwhile, essential ration items have been supplied to Vijoynagar. Earlier, porters had stopped going to the remote circle in view of the nationwide lockdown.
Under the initiative of Civil Supplies Minister Kamlung Mossang, an online portal has been created to reach out to those in need. Around 900 people have till date benefitted from the online service, while around 9000 masks have been donated under the 'Mask for all' campaign through an online portal.
The masks were procured with money from the contributions made by government employees and public leaders of Miao subdivision.