ITANAGAR, Apr 30: The Don Bosco Youth Centre (DBYC) here, in association with the Child Welfare Committee (CWC), Itanagar, Childline Itanagar, and the Association of Don Bosco Past Pupils (ADBPP), organized 'food relief programmes' on the outskirts of the capital complex on Thursday, reaching out to workers, children and senior citizens, to mark the death anniversary of former chief minister Dorjee Khandu.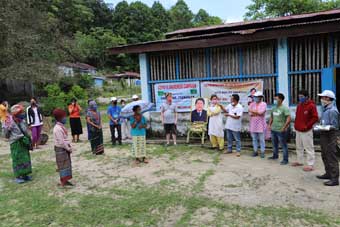 "The twin reasons for the programme were to pay homage to late Dorjee Khandu and to honour the actual workforce on the eve of International Labour Day," DBYC director Fr Cyriac said.
"Late Dorjee Khandu was the person who laid the foundation stone for DBYC way back in 2009, and on his memorial day we would like to pay homage to him and do something relevant, in keeping with the benign character of late Khandu and the difficult times we are all passing through," he said.
He also prayed for the wellbeing of the workers of the state.
ADBPP executive member, advocate Taring Mayu, who facilitated the programme at Baatt, Moin and Poma, explained to the beneficiaries the importance of physical distancing and cleanliness, while CWC Chairperson Likha Asha advised mothers to take care of the health and hygiene of their children, "as Covid-19 can be avoided to a great extent by improving one's immunity."
Asha also urged everyone to collaborate with Childline in reaching out to children in distress, and apprised them of the '1098' toll-free service available round the clock.
Rice, lentils, sugar, chickpeas, peas, flour, pasteurized milk, refined oil and soap were provided to the beneficiaries. Reusable facemasks provided by Capital SP Tumme Amo were also distributed.
A large number of BPL families from Baatt, Moin Happ and Poma villages benefitted from the programmes, which were supported by BJP Yuva Morcha leader Kino Boken, former Poma ASM Techi Ana, former Poma GP chairperson Tayum Roma, and Poma HGB Tarh Sankyo, the DBYC said in a release.