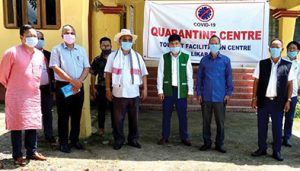 ITANAGAR, May 9: Textiles and Handicrafts Minister Tumke Bagra along with legislators Nyamar Karbak, Rode Bui, Kento Rina, Kardo Nyigyor and other officials on Friday visited the quarantine centres at Likabali in Lower Siang district and took stock of the facilities there.
Likabali has a total of five quarantine centres with a total capacity to accommodate 253 persons. At present, there are 21 persons under quarantine in the centres, who have returned to the state from Assam and Meghalaya.
The team also visited the Likabali hospital and check gate, during which they were briefed on the Lower Siang administration's preparedness and measures taken against the Covid-19 pandemic by deputy commissioner AK Singh, SP Surender Choudhary and district medical officer Dr Marbom Basar.
Minister Bagra expressed satisfaction over the preparedness and the facilities being provided in the quarantine centres and appreciated the district administration, health department and police for their efforts.
The visiting team also thanked the owners of New Life English School, Poi Vidya Niketan and DD Public School for providing their schools to be set up as quarantine centres.
The team would be visiting Yomcha in West Siang district on Sunday.