TARAJULI, May 14: Agriculture Secretary Bidol Tayeng distributed saplings of Lalit guava to farmers here in Papum Pare district on Thursday.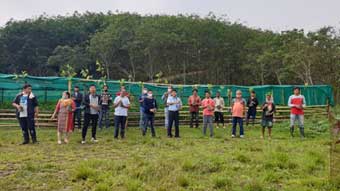 Ten farmers from different parts of the state were given the saplings, which were provided by Likha Maj, the promoter of the mega food park project.
Maj informed that 50,000 Lalit guava saplings would be distributed to the farmers across the state.
"Once the food park starts, there will be a requirement of 14,000 mts of items. To meet some of the needs, we are providing the Lalit variety guava saplings. The people can contact their respective horticulture officer to avail the saplings," he said.
Maj said that last year, 50,000 guava saplings had been provided free of cost to the farmers of Yachuli constituency.
Tayeng informed that Lalit guava "is promoted by ICAR, Lucknow, and is suited for Arunachal Pradesh." He said the food park in Banderdewa/Tarajuli would be ready in the next two years.
"The road construction has started, and if everything goes as per plan, the park will be ready within two years. Once it is completed, the farmers of the state will have a readymade market to sell their produce," he said.
Tayeng said the state government, which is laying emphasis on agricultural and horticultural activities, has increased the fund allocation to the agri-horti sector in the last few years.
Citing the crisis of vegetable and meat supply witnessed during the lockdown period, he said the people of the state should promote local farmers.
"Cheap agri-horti and meat items from Assam make their way to the state, especially in the capital region. People rush to buy these items, even though they are not organic. Our farmers produce organic items, which may be slightly high on rate. It's time to buy local and live healthy," he said.
He also said the agriculture produce market committee (APMC) would have to come up with a proper policy to promote local farmers.
Horticulture Director J Rime and APMC CEO Okit Paling were also present on the occasion.