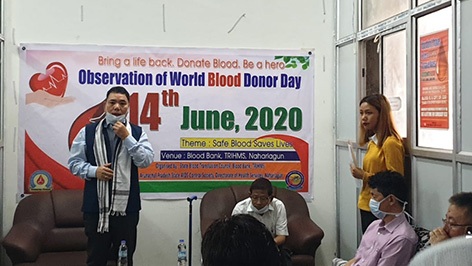 NAHARLAGUN, Jun 14: Health Minister Alo Libang said more people should come forward to voluntarily donate blood to meet the shortage of blood in the hospitals.
"The myth and misconceptions surrounding blood donation should be done away with through IEC campaigns," Libang said on World Blood Donor Day [WBDD] on Sunday.
Commending the members of the Anggong Society of Papum Pare and the Arunachal Students' Union, Shillong, who turned up to donate blood at the TRIHMS here to mark the day amid the lockdown and the Covid-19 pandemic, the minister appealed to CBOs, NGOs, student unions and youth volunteers to continue doing the noble job for the needy people.
"Voluntary blood donation is the highest form of altruism, and by donating blood the donors are saving the lives of many people," he said.
Libang called for carrying out robust IEC campaigns in the coming days to mobilize more people to voluntarily donate blood.
Health Services Director, Dr M Lego appealed to the people to promote voluntary blood donation in every nook and corner of the state. Informing that the birthday of Austrian physician and Nobel laureate Karl Landsteiner, who discovered the blood groups in human body, is observed as WBDD every year on 14 June, Dr Lego said "it is an occasion to salute the voluntary blood donors across the globe."
He also spoke about this year's WBDD theme: 'Safe blood saves lives'.
Arunachal Pradesh State AIDS Control Society Project Director, Dr Riken Rina said the state has made commendable progress in the field of voluntary blood donation in the recent times.
"Arunachal was awarded as the best performing state for achieving 100 percent voluntary blood donation by the ministry of health & family welfare in 2019," he said.
State Blood Transfusion Council Deputy Director, Dr Nabam Budh said the WBDD this year could not be organized on a large scale due to the Covid-19 pandemic, and that the blood donation was planned in a staggered manner.
Stating that voluntary blood donation and awareness have improved over the years, Dr Budh said more and more donor motivation campaigns will be carried out through the electronic media, the print media and social media in the coming days.
"The annual blood collection in the state at present is more than 8000 units; it was just 1000-1500 units a few years back," he said.
The voluntary blood donation programme was carried out under the supervision of blood bank in-charge, Dr P Sona and Blood Bank Officer, Dr Tashi Paleng. Twenty-nine units of blood were collected.
The blood bank of the Lower Subansiri district hospital in Ziro also observed WBDD. To mark the day, a voluntary blood donation programme was organized, during which eight units of blood were collected, informed blood bank in-charge, Dr Joram Khopey.
The blood banks in Aalo [West Siang] and Tezu [Lohit] also conducted blood donation camps to mark the day.