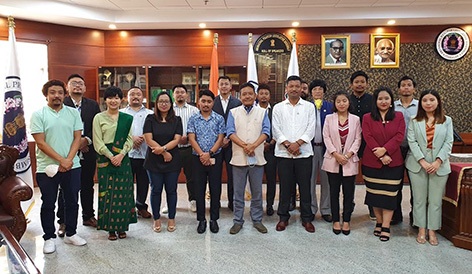 ITANAGAR, Jun 16: Assembly Speaker Pasang D Sona and Deputy Speaker Tesam Pongte on Tuesday felicitated 15 young volunteers from different professional backgrounds who worked at the Arunachal Pradesh Legislative Assembly (APLA) Covid-19 control room for the last two months.
The control room was set up on 21 April to assist the state's people stranded across the country amid the nationwide lockdown in the wake of the Covid-19 pandemic.
During the lockdown, the volunteers, under the supervision of nodal officer PN Thongchi, Joint Secretary Agaab Mossang and Undersecretary L Rongrang, coordinated with the central Covid control room in the Lok Sabha and the control rooms in other state assemblies, exchanging information and working on the problems faced by the stranded people.
Lauding the volunteers, the speaker said, "You have redefined the true meaning of 'volunteer' by selflessly working for the needy people under tremendous pressure during the lockdown. Your services will not go unnoticed. I appreciate your services from the core of my heart."
Recalling the time when the volunteers helped two differently-abled students return home safely from different locations in Meghalaya, Sona commended the volunteers for "going the extra mile to help the needy at crucial junctures."
Stating that the fight against the coronavirus is not over yet, the speaker urged the youths to spread awareness among the people to strictly follow the SOPs and government guidelines.
The deputy speaker also lauded the volunteers for running the Covid-19 control room with dedication and helping out the stranded people during the lockdown period.
"The services rendered by the volunteers are immense and noble," he said.
APLA Secretary Kago Habung and Thongchi also spoke.
Later, the speaker and the deputy speaker handed over certificates of appreciation to all the volunteers.