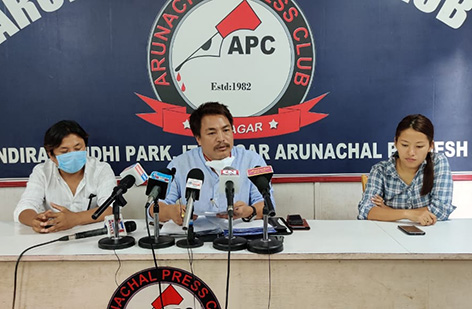 Staff Reporter
ITANAGAR, Jun 17: The All Arunachal Pradesh Students Union (AAPSU) on Wednesday stated that it would sponsor the 12 days territorial lockdown being announced by the local people and NGOs in Pasighat from 19 to 30 June 2020.
Addressing a press conference here, AAPSU vice president (Administration) Meje Taku informed that union had resolved to sponsor the territorial lockdown in Pasighat town being jointly called by All East Siang District Students' Union, East Siang District Indigenous Covid19 Warriors which is a conglomeration of various organisations, NGOs including Adi Baane Kebang Youth Wing, Adisu East Siang unit etc.
AAPSU vice president stated that standard preventive measures would be issued by the union for adherence during period of the lockdown. AAPSU further stated that lockdown is being imposed to enable frontline workers to speed up contact tracing and contain the spread of virus at the community level.
Taku further called on the district administration and health department to intensify the contact tracing of all those who came in contact with the frontline worker who tested covid-19 positive.
He also demanded that the government ensure that all facilities are provided to the frontline workers who are risking their lives while performing their duty.
The union also urged the government to increase testing including of those in the frontline.
AAPSU also questioned the state government about their strategy to tackle Covid-19 as the state is witnessing a surge in new cases every day.
It further blamed the district administration of not doing enough.
Justifying the lockdown, AAPSU assistant general secretary Thomas Jerang said, 'Pasighat is the corridor of Eastern Arunachal, the purpose of the lockdown is to contain the spread of virus.'
The union further stated that the police should escort all vehicles which are passing through Pasighat to other districts, right from Raneghat to Pasighat Welcome Gate without stopping at the municipality areas.
It said that all the business establishments, such as hotels, shops and eateries should remain shut. Also, public movement without any valid reason will be strictly restricted while, use of face mask shall be mandatory.