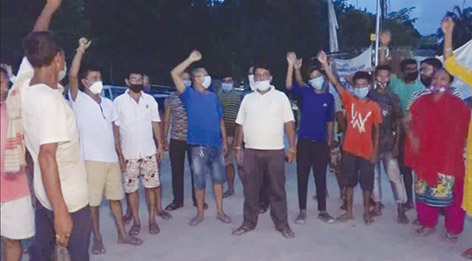 [ Nellie N Manpoong ]
ITANAGAR, Jul 25: Residents of Assam's side of Banderdewa staged a protest on Saturday evening, demanding that the Arunachal government take care of truckers who test positive for Covid-19 at the check gates in Arunachal, and warned that trucks carrying essential items would otherwise not be allowed to pass through Narayanpur area of Assam to reach Arunachal.
As per claims of the locals in Banderdewa, four people were detected as being Covid-19 positive and kept on the Assam side of Banderdewa for treatment but were not looked after as the day passed.
"Four positive people were kept waiting from morning till late evening without any treatment or even water," a local claimed in a video.
He also said that "if someone is found positive in Arunachal, they should be taken care of there, and if someone is found positive in Assam, they should be treated here."
Locals also said that truckers do not belong to a state per se as they travel through several states, and cannot be considered to be coming only from Assam. They demanded that truckers carrying essential items to Arunachal be taken care of at the Covid care centre of the state.
Cautioning the Arunachal government, the protestors said if the SOP for truckers is not changed, they would stop all vehicles carrying essential items to Arunachal from the Banderdewa side.
However, as per Arunachal's health officials, only two positives were detected at the Banderdewa check gate on Saturday.
On enquiry, Health Secretary P Parthiban informed this daily that the state is taking in Covid-19 positive persons.
"We are taking Covid positive persons. It seems there was miscommunication. We will issue a clarification to all DCs," he informed.
It is to be noted that about six truckers tested positive over the last week and were sent to the nearest Covid care centre in Assam with the help of the Assam government.
The revised SOP issued on Saturday does not have specific instructions for truckers delivering essential supplies. It only mentions conditions for "returnees and travellers" entering the state, the procedure to be followed in case someone is symptomatic or asymptomatic, and the subsequent tests and quarantine period that are to be followed.
The 19 July SOP, which includes instructions for truck drivers and their attendants, calls for mandatory rapid antigen tests for truckers/attendants at the point of entry before they enter the state.
"If the person is symptomatic, entry to the state will be not granted. If the result is negative, they may be allowed to enter the state and proceed to their duties, following due precautions of social distancing, compulsory wearing of masks, hand hygiene, etc, and leave the state after unloading materials," the SOP reads.
While the SOP says that entry will be denied if one is 'symptomatic', there is ambiguity on the steps to be taken by officials if someone is detected as being positive.