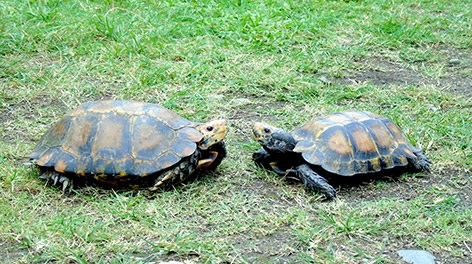 Correspondent
Itanagar, July 25: The impressed tortoise (Manouria impressa) was discovered from the forests of Arunachal for the first time in June 2019. It was a significant finding as such a large tortoise (grows over 35 cms) remained hidden from science all these years.
Recently, another live tortoise was found in Papum Pare district in June 2020 by a teenager, Bamang Tachung, who found the tortoise on the top of a hill near his village on a morning trip to the forest. Once he brought it to the village, instead of killing it, he wanted to keep it as a pet. Little did Bamang know that he had saved the tortoise and contributed to knowing more about this rare species.
"I got information from a friend, who showed me a picture of the impressed tortoise with some locals, and at that moment I made up my mind to rescue it as I had been looking for this tortoise since the past year. To find a live one is very rare and someone could easily have done with it as source of protein, as our people have been given very less knowledge of rare and critically endangered wildlife" said Lishi Gunia.
Gunia is an engineer who graduated from Lovely Professional University, and has been working in his spare time to collect information on this species in Potin and its surrounding areas, funded by the Desert Tortoise Council, USA, with the support of Anuja Mital, a herpetologist from the Freshwater Turtles and Tortoises Foundation, and Dr Abhijit Das, scientist at the Wildlife Institute of India.
The tortoise was rescued, and after monitoring it for a few weeks, it was released near the same site where it was found, in the presence of the local community.
"Potin is a historical and ancient village of Nyishi people and an unexplored paradise having high rainfall like Cherrapunji every year with foggy and densely packed jungles. The jungles have an abundance of mushrooms, wild figs (tokku), moist and loose humus soil with high mountains with tarn lakes. I am sure impressed tortoise and other amphibians and reptiles are waiting for us to discover them. Sadly, us locals are not yet experts in identifying them scientifically," said Lishi Baka, ex-anchal samiti member.
Lishi Gunia explained: "I have been campaigning and convincing people in my area by telling them about the importance of contributing to nature and science, which can save nature as well as ourselves. Our area has been blessed with such rare species. Eating it would only exhaust it like a golden goose as the impressed tortoise and other rare species could be potential hotspot for tourism for our area and the state as whole."
"Lishi Gunia is enthusiastic to learn and conserve wildlife of his region and we are grateful for his efforts. Since a significant localized population seems to exist only in a particular region of Papum Pare and Lower Subansiri, local intervention and awareness by the Nyishi community can go a long way in conserving this rare and endangered species" said Anuja Mital.
Taba Tayo, the gaon bura of Potin village, said, "This tortoise is native to our place. Previously, our people used to eat it as we were unaware of its importance. Thanks to herpetologists Anuja Mital and Dr Abhijit Das, along with our very own brother Gunia, they are trying to bring awareness and changes around our vicinity. I urge everybody in the Potin area and the tortoise habitats to stop hunting and consuming this impressed tortoise as meat and save this rare species, so even our future generations will know about them."