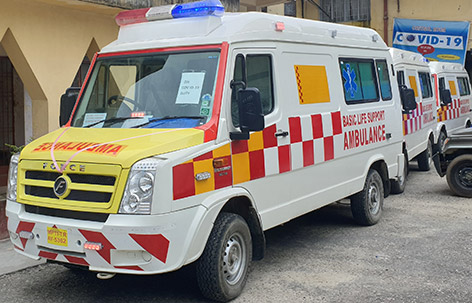 NAHARLAGUN, Jul 26: Health Minister Alo Libang on Sunday flagged off five basic life support (BLS) ambulances here.
The ambulances have been procured under the North Eastern State Infrastructure Development Scheme (NESIDS), funded by the government of India.
Of the five ambulances, one has been allotted to the dedicated Covid hospital in Midpu (Yupia) and another to the dedicated Covid hospital at the MLA apartments in Chimpu. The other three ambulances have been allotted to Kurung Kumey, West Siang and Changlang districts.
Libang informed that advanced life support (ALS) ambulances are also on the way and all the districts of the state would benefit from them.
He said that the state government has resolved to conduct antigen tests in all the districts, and that no fee will be charged for the test till 3 August.
"Taking serious note of the rising numbers of Covid-19 cases, the health department has sped up its testing procedure for the safety of the people of the state," said Libang.
He said testing is the only way to prevent further spread of the coronavirus.
Health & Family Welfare Director Dr Emi Rumi informed that Arunachal would be getting 10 ALS and 20 BLS ambulances under the NESIDS. "Every district hospital will be allotted one ambulance each," he said.
Later, Libang chaired a meeting of the top officers of the health department and discussed the progress of the work for the dedicated Covid hospitals in Midpu and the MLA apartments.
He directed the officials of the health department to monitor the work and update him on a daily basis.