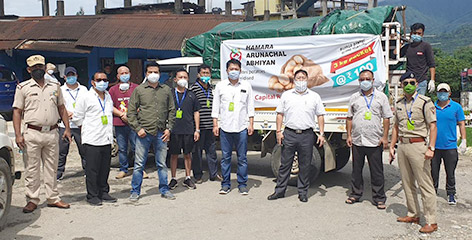 ITANAGAR, Jul 25: Volunteers under the Hamara Arunachal Abhiyan (HAA) distributed potatoes at a subsidized rate at various sectors and colonies of the Itanagar capital region (ICR) on Sunday.
Each pack contained 3 kgs of potatoes priced at Rs 100.
The distribution of potatoes at a subsidized rate is a brainchild of Home Minister Bamang Felix, who launched the programme under the HAA to support people facing shortage of food items.
ICR DC Komkar Dulom launched the distribution programme in the presence of officials, HAA volunteers, members
of the Arunachal Pradesh Marketing Committee, and others.
The DC said the decision to distribute potatoes at a subsidized rate was taken after people from various quarters suggested that at least dal, rice and potatoes should be made available at affordable rates during the lockdown.
"Our home minister and chief minister took note of the public grievance and decided to provide staple food at affordable prices," Dulom said.
He informed that the DA has stocked about 25,000 kgs of potatoes which will be distributed at a subsidized rate throughout the ICR.
Dulom urged the residents to avail the benefit but strictly maintain the SOP while purchasing.
APMC Member Secretary Dolang Akam said potatoes were distributed at several colonies and sectors on Saturday also, and added that the distribution programme would continue in the ICR "till the stock is exhausted."
"Not only potatoes, but we are also looking forward to include green vegetables," he said.