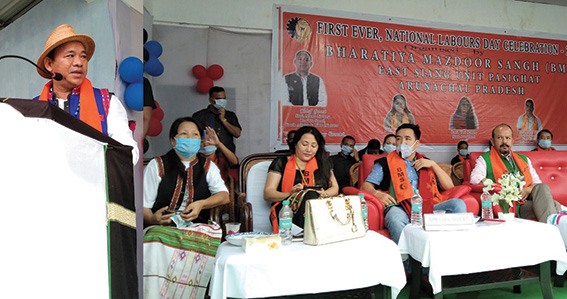 PASIGHAT, Sep 17: WRD Minister Mama Natung called upon the working class of the state to "keep their team spirit high for the wellbeing of the state."
Addressing the gathering at a 'national labours day' event organized by the East Siang district unit of the Bharatiya Mazdoor Sangh (BMS) at the JN College playground here on Thursday, the minister said that the present state government has enhanced the remuneration of the labourers besides providing all due facilities. He assured to take up with the local MLA and the East Siang DC the matter of land allotment for construction of a BMS office here.
"We often do not think to recognize the works of the labour class which keep our life progressive, happy, healthy, wealthy and comfortable," the minister said, and added that no country would prosper without the hard work of farmers and labourers.
Natung said the state government is committed to bring equal development in all the constituencies, so that no constituency is deprived.
He lauded the East Siang district administration and all the frontline workers for their fight against the coronavirus and the steps taken by them for Covid-19 management.
The minister also commended local MLA Kaling Moyong for carrying out activities for all-round development of Pasighat.
Moyong in his address highlighted the achievements in various sectors and said that air and railway connectivity along with the opening of Bogibeel bridge have made connectivity short, and time- and money-saving.
He said he would give priority to health, education and agriculture sectors and make every effort "to bring all-round development at the grassroots level with transparency."
Earlier, state BMS president Yashi Sonam placed some demands before the minister and the MLAs for strengthening the state BMS.
District BMS president Mipet Tayeng submitted a four-point memorandum to the minister.
District BMS general secretary Ajay Saroh and East Siang AAPPTF unit president Tabiram Moyong also spoke.
Tali MLA Jikke Tako was also present on the occasion. (DIPRO)