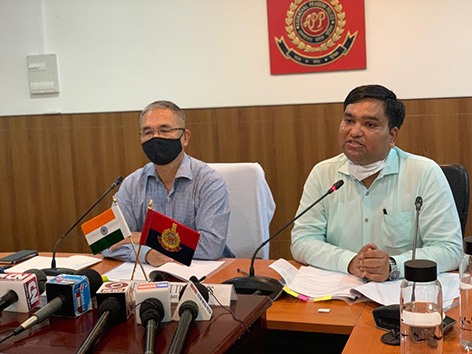 Staff Reporter
ITANAGAR, Sep 18: In its continuing fight against the menace of drug addiction and peddling in the state, the Arunachal Pradesh Police (APP) on Thursday launched a 'Drug Free Arunachal' mobile application, in collaboration with NGO Drug Free Arunachal and Moon Walk System Pvt Ltd.
The app has been launched on a pilot basis. It was launched by DGP RP Upadhyaya during a videoconference with superintendents of police.
On Friday, in a press conference at the PHQ here, IGP (Law & Order) Chukhu Apa said that the objective of launching the app is to provide a platform to the common people to share information on the drugs menace.
"The mobile application would be the easy way to complain or pass on information to the police authority," said Apa.
The IGP gave assurance that the identity of informants would be kept secret and an officer from the nearest police station would respond as soon as the message is flashed in the control room.
Apa appealed to the people to be partners in the fight against drugs by downloading the application.
Drug Free Arunachal chairman Nabam Serbang highlighted the importance of the mobile app, stating that the app "is a platform for common people to report against drugs-related cases and incidents."
Crime Branch SIT SP Hemant Tiwari in his address disclosed that 25 alleged accused involved in the anti-PRC riots in February 2019 were summoned by the chief judicial magistrate in Yupia on 8 September, and that the next hearing is on 12 December.
The SIT SP informed that the 25 alleged accused have been summoned in connection with two cases.
Tiwari further informed that 10 cases registered over the anti-PRC violence have been handed over to SIT for investigation, and that charge-sheets have been filed in five cases.
Speaking about the police's modernization plan, he informed that the state government has sanctioned Rs 6.10 crore under the "TCL action plan" and a total of 120 vehicles of different kinds would be purchased to streamline the fight against insurgency.
He informed that procurement of 62 PCR vehicles (Scorpio) is "under process."