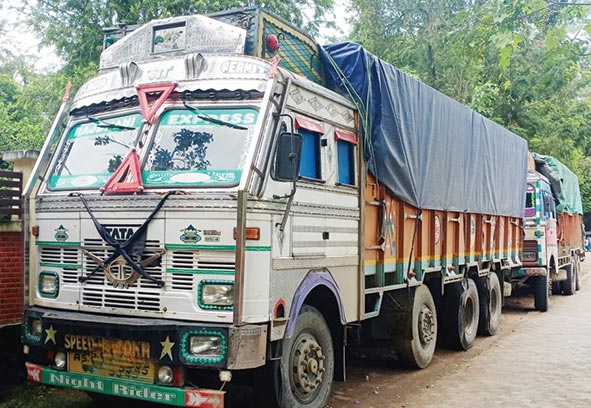 [ Pisi Zauing ]
MIAO, Oct 21: Three persons have been arrested for allegedly trying to flee with two trucks laden with illegally-procured coal consignment from Miao in Changlang district on Monday.
The three have been identified as Ananta Deori from Majuli and Lalit Gogoi from Sivsagar (both drivers), along with the transporter of the consignment, Bedabrata Dutta.
The trucks (registration AS-25-AC-1476 and AS-01-JC-5545) were on its way to Tinsukia in Assam when they were intercepted at Margherita (64 km from Miao) by a team of the Assam Police, led by Margherita OC Utpal Borah.
During on-the-spot questioning, Dutta revealed that a Kakopather-based coal trader in Assam hired his truck for transporting sawn timbers from Miao. He had claimed that "coal was forcefully loaded" in his trucks from Miao.
Dutta further revealed that some youths of Miao had escorted the coal-laden trucks till Margherita, before the Assam Police intercepted them.
When contacted, SDPO Margherita Puna Gogoi informed that "no valid documents to this effect could be produced by the party," adding that "it was a clear case of theft or smuggling."
A case in this regard has been registered under section 379, r/w 3 PDPP Act.
Concerned that there could be "government agencies involved" in the illegal coal mining, the United Miao Mission and Miao Singpho Ramma Hpung, in a joint communiqué, urged the district administration, department of geology and mining and police to be strict and stop all forms of illegal coal mining in Miao area in the larger interest of the state.