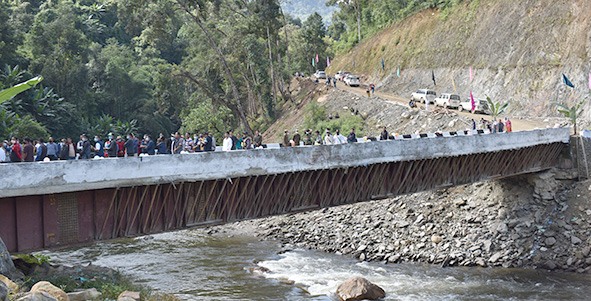 SANGRAM, Oct 27: Home Minister Bamang Felix inaugurated two RCC bridges in Nyobia and Sangram circles of Kurung Kumey district on Monday.
While one RCC bridge has been constructed over the Payin river by Buru Enterprises, an RCC double-lane bridge over the Panyiu river has been constructed by M/s Tamchi Kusuk Construction Company.
Felix said that the bridge over the Panyiu river will connect several villages in Nyobia circle and provide passage to Parsi Parlo circle in Koloraing assembly constituency, while the bridge over
the Panyiu river will connect Nyobia circle with Sangram circle and will support thousands in their movement.
"It was my commitment to the people of my assembly constituency that I would give priority with regard to connectivity and other important infrastructure development, which include electricity, power, water supply, education and health. I am putting my effort in all sectors but need the cooperation of the public," Felix said.
Among others, Kurung Kumey DC Kento Riba, SP Minjum Ete, Nyapin ADC Otem Jamoh, Sangram SDO Tsering Pentsom Monpa, Nyoba CO Pemiya Mikro, EAC Dr Dana Una, and Phassang CO Afa Phassang were present at the inauguration.
Earlier in the morning, a team of officers visited the water treatment plant and the inspection bungalow in Langrh village in Nyobia circle.