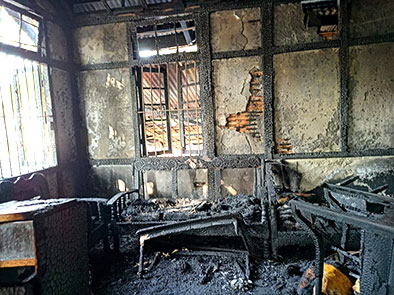 TEZU, 27 Jan: A government quarters was destroyed in a fire mishap which occurred here in Lohit district at around 7:30 pm on Tuesday.
The quarters belonged to one Karna, an employee of the district museum here. The raging fire completely destroyed all his furniture and belongings. However, no casualty was reported in the incident.
Fire fighters reached the spot on time and were able to contain the flames from spreading to the adjoining government quarters.
According to Lohit SP Ankit Kumar Singh, the cause of the fire was a short-circuit that occurred due to old wiring in the quarters.
"The deputy commissioner and a police team led by Tezu PS officer in-charge also visited the spot to inspect and assess the damage. They provided all possible help to the victim," he added.
Earlier, the local MLA provided immediate relief, and assured rehabilitation of the affected family.
Meanwhile, the fire department prevented a forest fire in Medo area and Lasapani in 32 Mile village here at around 1:30 pm and 5 pm, respectively, on Wednesday.