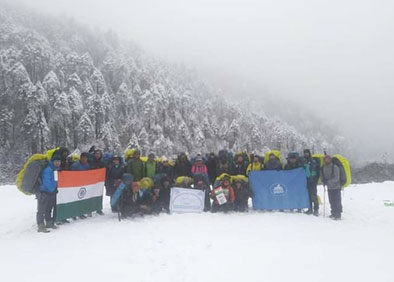 ITANAGAR, 27 Jan: Mountaineer Tagit Sorang on Wednesday said that the state government should constitute an expert team, comprising mountaineers from the state, to explore adventurous locations in the state, "like the Sherpa mountaineers in Nepal."
Sorang, who represented the state in the first ever 'Indian winter Bailey trail trekking expedition' this month, opined that there is a serious need for an expert team.
Addressing the media at the press club here on Wednesday, Sorang said that the expert team of mountaineers from the state would be valued as early explorers of the Himalayan region. "They would also serve as guides at extreme peaks and beautiful locations and passes in the state," he said.
He said that the expert team would ensure the continuity of finding new adventurous locations, generate income for youths interested in mountaineering and adventure, and bring in large inflow of international tourists.
"Our state is blessed with beautiful locations which need to be explored more. To make the state one of the potential powerhouses of adventure tourism, an expert team within the state is a must," he said.
Sorang was the only trekker to represent the state in the Indian winter Bailey trail trekking expedition, which comprised 26 participants, including trekkers from the NIMAS, Manipur, and Assam.
"If the state government comes up with the idea of constituting an expert team, it will also fill the gap in communication with the NIMAS as well as the Indian Mountaineering Foundation (IMF)," he added.
Sorang, who was almost left out from participating in the trekking expedition, said that the formation of the state's own expert mountaineering team would facilitate better communication with the NIMAS and the IMF in the future.
"The formation of an expert team of mountaineers will also encourage the call of Prime Minister Narendra Modi's 'Vocal for local' in a way," he said, and requested the youths to get the advanced training at the NIMAS, rather than quitting after the basic training.
Sorang informed that the Indian winter Bailey trail trekking expedition was sponsored by the IMF under the union sports & youth affairs ministry and was part of the National Youth Festival, 2021.
The 26 trekkers covered a distance of 200 kms in 11 days, from Jang (Tawang) to Thembang (Dirang). The trekking expedition had started on 7 January.